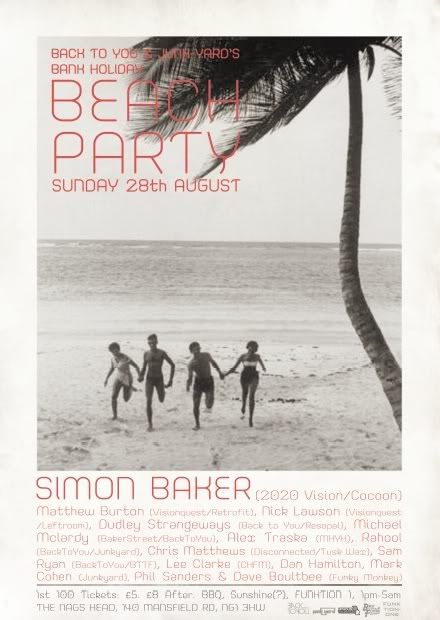 28th Aug bank holiday Sunday sees the return of Back to You and Junk Yard for more frolics on the beach! With the success of the previous two annual party's with Phil Weeks, Back to You and Junkyard come together again to host one of the hottest day/nights out this year but this time with 2020 vision's SIMON BAKER!
Also featuring alongside Simon Baker are Matthew Burton & Kate Rathod performing live!! (Visionquest/Retrofit)
As in previous parties, the same rules apply.
Indoor and Outdoor party to be hosted throughout the day from 1pm until 5am with a full BBQ and funktion one sound system both inside and out. 3 tonnes of sand, sand castles, palm trees and pool to get you in the beachside mood along with being broadcast live on MYHOUSEYOURHOUSE.NET
Speedo's and Bikini's optional
The Dj's on the beach & in the shade include:
Outdoor area (On the Beach) - 1pm-11pm
SIMON BAKER (2020 Vision/Cocoon)
Matthew Burton & Kate Rathod Live (Visionquest/Retrofit)
Dudley Strangeways (Back to You/Resopal)
Alex Traska (MHYH)
Lee Clarke (CHFM)
Room 2 (In the Shade) - 7pm – 5am
Nick Lawson (Visionquest/Morris Audio/Leftroom)
Michael Mclardy (Baker Street /Alive/Back to You)
Chris Matthews (Disconnected/Audiophile)
Sam Ryan (Back to You/BTTF)
Rahool (Back to You/Junkyard)
Marc Cohen (Junk Yard)
Phil sanders & Dave Boultbee (Funky Monkey)
Limited recession tickets priced at £5
Available from MONTANA's spray shop in hockley, and the NAG'S HEAD mansfield road!
£8 on the door.
Stay tuned to the Facebook event page for more details
https://www.facebook...151293588280972
1pm - 5am
Venue:
The Nags Head
140 Mansfield RD Nottingham
NG1 3HW
Contact: backtoyou@back2thefuture.eu
Contact: junkyardtech@yahoo.co.uk
www.backtoyoumusic.com
www.junkyardtechno.co.uk